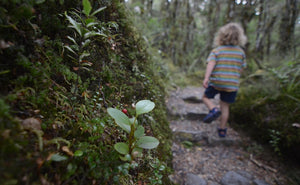 DISCOVER FREE FAMILY
OUTDOOR ADVENTURES
WALK. BIKE. BUGGIES. WHEELCHAIRS. DOGS.
Our guidebooks have 100s of fun outdoor walks, playgrounds and bike adventures for kids. We have taken the guess-work out of discovering new adventures for your family. Explore the outdoors, stress-free.
NO MORE SURPRISES
Are there stairs? Can I bring the bikes or scooters? What about the family pooch? We've done the foot-work for you. Clear accessibility icons for buggies, bikes, wheelchairs and the family pooch are on every adventure.
FIND INSPIRATION
Need to escape outdoors but can't think of where to go? Just flip open the book to any page. Discover walks and bike rides from five minutes to a couple of hours, and even overnight tramps.
PREVENT CABIN FEVER
Looking for buggy-friendly walks to explore with littlies? There are 100s of short adventures in our guidebooks where you can take even the youngest of explorers in their buggies.
Tired of the "What should we do today?" question?
Here are just 16 suggestions from our guidebooks that kids will LOVE.
+ Surf down black sandy dunes and skim across cold dune lakes.
+ Discover a rare wetland lagoon surrounded by a forest saved by eco-warriors.
+ Clamber up tree-top viewing platforms surrounded by swaying ancient kahikatea trees.
+ Walk along exposed ancient volcanic flows to where the occasional zoo animal was buried. Yikes!
+ Clamber underground through limestone caves but mind the cave wētā!
+ Sail to the country's youngest volcano and stroll through the world's largest pōhutukawa forest.
+ Channel Robinson Crusoe on an uninhabited island which used to be a rabbit farm!
+ Walk through an ancient Jurassic forest and try to find Fred the Thread.
+ Cycle through dark damp mining tunnels to towering historic cyanide pits.
+ Stand beneath hundreds of gannets swirling above – it's a bit stinky though!
+ Watch waterfalls blown skyward after clambering over mammoth moss covered boulders.
+ Explore mazes of spooky military tunnels and search for the fabled Boeing airplanes.
+ Dance in sea caves which held raucous parties – or bring your guitar for a gig.
+ Peer at ferocious-looking cacti and cold-fearing tropical plants.
Amazing!
I've been following for a few years on Facebook and always impressed with the little secret places they find. I just love the guidebook! It's great quality and jampacked full hidden gems. I will definitely be getting more copies for Christmas gifts!!
Waikato, Bay of Plenty and Central Plateau Guidebook
Waikato, Bay of Plenty and Central Plateau Guidebook
Amazing adventures
Thanks heaps for all your work on the amazing adventure books. Can't wait to get out exploring once we've decided where to start!
Highly recommend
Got the Hamilton/Waikato book. - DEFFO RECOMMEND!
Lived in Hamilton for 35yrs and keen on outdoors, so I have done quite a few hikes, but this book opened up our backyard like no other guides/books/websites have ever done!
DOC website might have stuff on serious hikes or back country stuff, and the local district council might have some info, but for family & kidfriendly stuff you're left wanting... until you find this book!
The track gradings, walk times etc are all realistic and accurate (much better than DOC info!)
Hoping they print more of the other 2 books, because I want them after seeing the quality of the info in the book we got!
Love it
Love how it shows what the tracks are suitable so informative 😁😁
So many adventures!
Can't wait to start ticking these off with my boys! Been living in Waikato for the past 2 years and wow! There are so many places I didn't even know existed. The rest of our summer is gonna be busy :)
My Mum bought one then showed it to me. Loved it so much I then purchased my own copy. One down, 107 to go!
Awesome info
Received the book and promptly opened it..looking forward to discovering the places within myself, either with the grandees or not! Well laid out and informative as to how user friendly each place is etc..a bonus if you want to take a buggy or wheelchair! Looking forward to ticking off the places we have been!
MR 3 and 4
This has been our weekend go to since our boys were 1 and 2 we just love all your ideas and are super appreciative. Can't wait for one with good accommodation recommendations for these neat places out of Auckland. Keep up the good work
Fantastic
It is a great book with well compiled information that can be hard to find out on Google. My sister now wants one to find good walks she can take her dog on.
I love this book. With three kids it has inspired me to get out and see places that we are not familiar with. It has all the info I need to feel confident planning a date out. Info that is not always easy to find on google
Auckland Guide Book
Having just shifted into the Auck land area, this directory will be invaluable for us to explore the various walkways and different areas of Auckland. It appears to be a very comprehensive book and is well worth the
W
the money
Very well put together
We bought the Auckland Guide book for our family to get out and explore more of Auckland. Looking forward to working our way through the interesting places detailed. The kids were very excited to get it and have already bookmarked the places they want to start exploring. Highly recommended.